Fairphone 3
Fairphone's tag line for the this eco friendly handset from Amsterdam is 'The phone that dares to be different'.  It certainly is that.
The phone is caring for the planet in more ways than one.
First phone to integrate Fairtrade gold into its supply chain.
Workers within the supply chain are put first where emphasis is put on their human rights and well being.
The handset is of a modular and repairable design.  Meaning, all spare parts are available to buy off the shelf and are user replaceable.  All of this means it is of a far more sustainable design that reduces waste.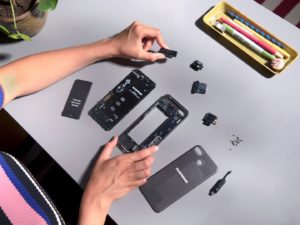 The phone has a mid level specification, including:
Qualcomm Snapdragon 632 with 4GB RAM
5.65 full HD screen
12 MP f/1.8 rear camera and 8 MP f/2.0 front camera
64GB Internal storage (expandable with microSD card)
Full day 3000 mah removable battery
Android 9 installed
Available on Vodafone, but please call for availability as they are getting more and more popular by the day.